Edible drones.

"Their delta-wing drone has a lightweight wooden frame that can be broken up for fuel, and an airframe skin made of starch-based thermoplastic. The wings and fuselage contain compartments holding food, water and medical supplies, which also provide structural weight."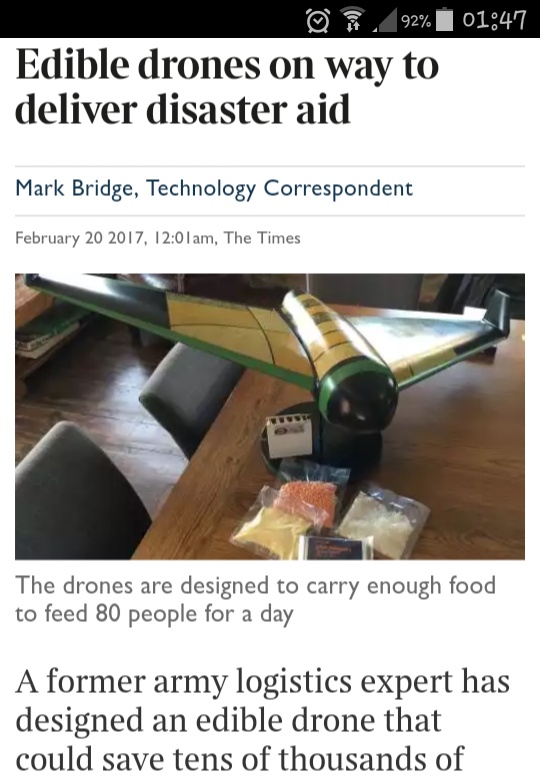 http://www.thetimes.co.uk/edition/news/edible-drones-on-way-to-deliver-disaster-aid-vhg8kvqbq
Воначо удумали - съедобные дроны! которые могут доставить еду для 80 человек на один день.🍰☕🍳🍤🍴🍸👣

Далее по тексту становится понятно, что дрон не весь съедобный.
А было бы весело, чтобы дрон был из вафлей, шоколада, рамка крыльев из сырокопчёных колбасок, пропеллер из сала (дрону может не нужен пропеллер, но можно же сделать, для красоты и запаса калорий)🐖, а снизу прицеплен термос с чайком и бутылка водки для дезинфекции.⛺

На самом деле корпус этого дрона деревянный, его можно разломать на растопку,🔥 покрытие - термопластик на основе крахмала (кисель можно сварить), в крыльях заныкана еда, вода, таблетки.💊🎯